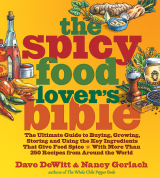 The Spicy Food Lover's Bible
The Ultimate Guide to Buying, Growing, Storing and Using the Key Ingredients That Give Food Spice
Imprint: Stewart, Tabori & Chang
Publication Date: September 1, 2007
Price: $18.95
Trim Size: 7 3⁄4 x 8 7⁄8
ISBN: 978-1-58479-676-3
EAN: 9781584796763
Page Count: 432
Illustrations: 432 pages, 7 3⁄4"x8 7⁄8"
Format: Paperback
A comprehensive guide to the use of hot spices in international cuisine
Dave DeWitt and Nancy Gerlach's book is clearly a work of dedication and passion!" —Deborah Madison
Even the most creative cooks sometimes need to spice up their menus, and there's nothing like a fiery flavor to add a kick to ho-hum cuisine. From chiles and chipotle to wasabi and ginger, every culture has its own way of making food sizzle with excitement. In The Spicy Food Lover's Bible renowned fiery foods experts Dave DeWitt and Nancy Gerlach bring together more than 250 recipes for hot stuff from around the globe, along with a wealth of related food information.
Now available in an affordable paperback edition, this authoritative guide begins by exploring the main ingredients that give the world's food its spice, with details on their history and horticulture, as well as how to use, purchase, and grow them,. The recipes that follow—Moroccan Charmoula, Gravlax with Creamy Mustard Sauce, Kung Po Chicken, Tamarind Mint Shrimp Curry, and many more—display an astonishing range of tastes and preparations, from the mildly piquant to the red-hot. Also featured are guidelines for putting together spicy meals with the ideal combination of flavors, colors, and textures, including "cool-down" dishes and beverage pairings. The Spicy Food Lover's Bible is the only book home cooks will ever need to turn up the heat on their everyday cooking.
About the authors
Dave DeWitt is the publisher of Fiery-Foods & BBQ magazine as well as the founder of the Fiery Foods trade show and www.fiery-foods.com. He has written more than 30 cookbooks, including The Whole Chile Pepper Book.

Nancy Gerlach is the food editor of Fiery-Foods & BBQ. She was the founding editor of Chile Pepper magazine and has written for Travel & Leisure, Eating Well, and the New York Daily News.